Attic Solutions
to Transform Your Life!
Feel like your home is too humid and slightly musty?
Your home's attic might be robbing you of energy savings, fresh air, and quality sleep. Our 3-Part Energy Reduction System (ERS System) will help you save money, and get rid of allergens and musty odors so your whole family can breathe easier and sleep like a baby all year long!
Save Money • Breathe Clean Air • Sleep Well
Make Your Home Comfortable…Save Up to 40% on Your Energy Bill.
Attic Contractor in Dallas-Ft. Worth
Your Complete Home Attic Solution
Transform Your Living Spaces by Transforming Your Attic:
Pay for themselves in a few years or less
Offer green alternatives for saving money on your bills and addressing the comfort level of your home
Can be installed in new or existing homes, offices, or out-buildings
Conserve energy and help the environment by reducing your carbon footprint
Improve the Air Quality of your living spaces
Qualify as Energy Star products**
**Our products meet strict energy efficiency guidelines set by the Environmental Protection Agency and U.S. Department of Energy. Energy Star products can save homeowners significant amounts on their energy bills.
Clayton Collie
Ryan was very genuine...I
felt like he could be
trusted.
Really appreciate the work Energy Attic did at my condo. I am on the top floor of an older building and was getting roasted by the afternoon summer until I added another 12 inches of insulation.
Ryan was very genuine in his assessment of my space and I felt like he could be trusted.
His crew was fast, efficient and very respectful of my space during a huge rain storm. They all took their shoes off to walk inside. You will not be disappointed by Energy Attic. Thanks Ryan!
WHAT OTHER CLIENTS ARE SAYING
I highly recommend Energy Attic. Guy & his associates did our attic approximately 5 years ago & every summer that I go into my attic , I feel this was one of the best improvements we did on our home!
They did an amazing thorough job. I was very impressed and I can already tell the difference, my upstairs is so much cooler... I wish I had done this when I moved into the home!!
I highly recommend Energy Attic for your attic needs. The difference that it made was definitely noticeable!! The guys were always prompt, listened to what we needed, and were very efficient. Job well done!!!!
We are very pleased with our results...
Attic Reengineering Observations
Built temperature weighted regression model and calculated what monthly electric bill would have been before attic reengineering and compared it to actual monthly electric bill after attic reengineering.
$$ savings over past 4 months averaged 34% per month, high of 41% during hottest month observed, and low of 32% during coolest month observed.
Currently forecasting 3.7 year payback, which is a 27% pre-tax annual return on investment. Results are based on our 5000 sq ft home. Other homes may have different results.
Environmental benefits from reducing power demand are:
*Eliminates 3,900 pounds of CO2 emissions per year from a natural gas fired power plant.
*Saves 6,400 gallons of water usage per year required to cool a natural gas fired power plant.
Put remote thermometer in attic. After attic reengineering, attic temperature averages +6 degrees warmer than outside air. Before attic reengineering, best estimate is attic temperature averaged +35 degrees warmer than outside air. Attic reengineering decreased attic temperatures (-29) degrees, on average.
Temperature between rooms has levelized [sic]. Very little temperature variability between rooms after attic reengineering.
A/C units run noticeably less.
We are very pleased with our results and look forward to many years of return on our investment.
- Mike Reed, Vice President Analysis, Mesa Power Group, Dallas, TX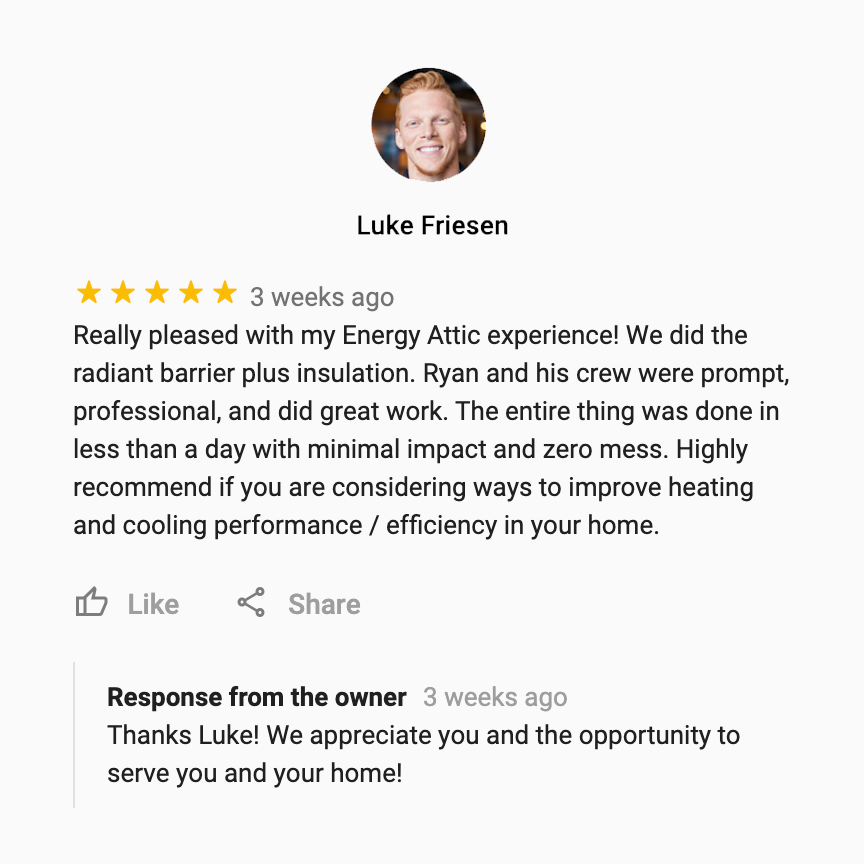 Clean Up Your Attic & Change Your Life!
Myth: Radiant barriers cook shingles
Truth: Radiant barriers may increase the temperature of your exterior roofline on a hot summer day by 2° to 5° as it reflects the sun's rays from entering into the attic but it will NOT cook your shingles. On any given hot day, the temperature on shingles can range from 160° to 190° so the slight increase from the barriers are insignificant and does not quicken the degradation of your shingles.
Frequently Asked Questions
Just like wrapping a baked potato in aluminum foil keeps a potato warm longer by holding the heat in, covering your attic rafters with RB holds heat in the house. Another analogy would be that RB in the winter works just like a space blanket, which, although very thin and lightweight, holds your body heat in. A thin space blanket can keep you warmer than several heavy blankets.
Learn more
.
Just like a space suit, RB reflects the sun's heat before it can warm up the insulation in your attic. When the insulation stays cooler, your house will stay cooler. It helps to understand how RB will work for you if you think of other things that work in much the same way. ASTRONAUTS' SPACE SUITS – keep body heat and reflect the sun's heat away. THERMOS BOTTLES – keep hot things hot and cold things cold. They are almost perfect insulators. The tight seal and air space prohibit heat transfer by conduction and convection. The reflective surfaces inhibit radiation heat transfer. If the bottle starts out hot, it stays hot because very little heat is transferred to the cooler outside. If it starts out cold, it stays cold because very little heat is transferred from the warmer outside.
Learn more
.
No. The foil on the fiberglass is in direct contact with the attic floor. Aluminum foil becomes more conductive when in contact with a solid surface. The air space facing the foil surface is of primary importance.
Learn more
.
Regardless of how much insulation you have in your attic, adding RB will save on your heating and cooling expense, and keep you much more comfortable. Energy savings for heating and cooling can vary from 17% to 25% depending on a number of factors, including climate, building configuration, materials used, site, family size and lifestyle. Your RB dealer has been trained to evaluate your home or business and advise you of your savings potential.
Get Control of Your Attic and Your Comfort, Quality of Life, and Your Energy Bill Will Follow.
Energy Attic uses a 3-part Energy Reduction System (ERS System) to make your home or office as energy efficient as possible, save you money on heating and cooling costs, reduce your carbon footprint on the environment and improve indoor air quality. The System combines three different components:
These three components work together to make a complete system that will reduce your year-round energy costs.
Schedule Your Energy Attic Audit
Transforming Attics to Transform Lives
Energy Attic exists to Do What Is Right, Love People, and Work Humbly… – Micah 6:8
We believe we when operate in this manner, our customers will be loyal raving fans, and our industry will be forever impacted!
Schedule Your Energy Attic Audit