Radiant Barrier Makes an Amazing Difference
"They did an amazing thorough job. I was very impressed and I can already tell the difference, my upstairs is so much cooler … I wish I had done this when I moved in to the home!!"

-Alex O.
Radiant Barrier Insulation & Installation
We use a 3-part Energy Reduction System (ERS System) to make your home or office as energy efficient as possible, save you money on heating and cooling costs, reduce your carbon footprint on the environment and improve indoor air quality.
We provide long-term, real solutions that increase your home's sustainability and protect your family throughout the year.
Benefits of our Radiant Barrier product:
Cell phone usage will NOT be affected.
Easy to handle
Non-toxic
Noncarcinogenic
Installation requires no special tools or clothing
Does not promote the growth of fungi or bacteria
Provides no nest support for rodent or insects
Requires no maintenance
Meets fire and smoke safety requirements of most federal, state, and local building codes
This radiant barrier product conforms to the following product standards:
Emissivity tested to ASTM C1371
Delamination & Pliability tested to ASTM C1313
Corrosion Resistance tested to ASTM D3310
Fungi Resistance tested to ASTM C1338
Water Vapor Transmission tested to ASTM E96
Flammability tested to ASTM E84 with ASTM E2599
Tongue Tear Strength tested to ASTM D2261
Trapezoidal Tear Strength tested to ASTM D4533
I highly recommend Energy Attic. Guy & his associates did our attic approximately 5 years ago & every summer that I go into my attic , I feel this was one of the best improvements we did on our home!

- Neelambari J.
They did an amazing thorough job. I was very impressed and I can already tell the difference, my upstairs is so much cooler ... I wish I had done this when I moved in to the home!!

- Alex O.
I highly recommend Energy Attic for your attic needs. The difference that it made was definitely noticeable!! The guys were always prompt, listened to what we needed, and were very efficient. Job well done!!!!

- Jill R.
Schedule Your Energy Attic Audit
An Energy Attic expert will come to your home and give you an honest and accurate assessment of your attic.
We offer fiberglass, wool, and cellulose insulation. Which one is best for your home? Your Energy Attic specialist can help you decide.
Start Saving With Radiant Barrier
Reduce attic temperatures from 20-45 degrees in Summer, and keep heat from escaping in Winter for year-round savings of up to 40% on your energy costs.
Frequently Asked Questions
Which insulation is best for my home?
The best way to determine which insulation products are right for your attic is to schedule an in-home assessment. We can take a look at your attic environment and recommend the right insulation. You can choose from fiberglass, wool, and cellulose insulation.
What are the benefits of radiant barrier?
Radiant barrier reflects 97% of thermal heat in your attic. By keeping the heat from getting into your home, you save up to 40% in energy costs. Radiant barrier is easy to install, non-toxic, and noncarcinogenic. It also exceeds all fire and smoke safety codes. Once installed, radiant barrier requires little to no maintenance over the years.
What other products and services do you offer?
We offer thermographic imaging, solar-powered attic vents, air conditioning units & duct sealing, radiant barrier duct wrapping. All of our services are designed to improve insulation, ventilation, air quality, and energy savings. We offer a comprehensive package of attic services so that you only have to work with one company.
What does an energy attic audit include?
The purpose of an energy attic audit is to prevent you from wasting money on inadequate or outdated insulation products. We perform a thorough inspection of your attic to determine how you can protect your home and lower your energy costs. We assess every area of your attic, test for proper ventilation, and perform thermal heat tests. All of our audits are honest, accurate, and have your home's best interest in mind.
More About Our Radiant Barrier Product
Lighter Weight and Still Stronger Than The Competition Sigma Technologies Int'l has created new manufacturing process able to eliminate the wasteful adhesives and films to create a lightweight radiant barrier that is actually stronger than a radiant barrier 50% heavier.
Strength tests performed by SGS Consumer Testing (a.k.a. US Testing Company, Inc.) measured both the Tongue Tear (ASTM D2261) and the Trapezoid Tear (ASTM D4533) for Sigma's 3100 Series Radiant Barrier. These strength tests were then compared to tests run on a conventional heavyweight radiant barrier. For the Tongue Tear strength test, an incision is cut into the radiant barrier and a machine tries to tear it along the cut by ripping and pulling it in separate directions, perpendicular to the plane. For traditional heavyweight laminated radiant barrier, this test is sufficient to tear it. However, Sigma's Series 3100 radiant barrier scrim stretched and shifted, but in the machine direction, the threads just would not tear. Because the Trapezoid Tear (ASTM D4533) test pulls the product in the direction of the tear, both types of products will actually tear instead of stretching or shifting. The Trapezoid Tear provides a fair comparison from a tear in one product to a tear in another.
The result of the Trapezoid Tear comparison is that it takes between 2X to 3X more strength to tear Sigma's thinner, lighter Series 3100 radiant barrier (about 20 lbs per 1000 sq ft roll) than a conventional thick and heavyweight radiant barrier (about 30 lbs per 1000 sq ft roll). Other manufacturers are still relying on outdated lamination technology, where the only way to add strength is by making the radiant barrier thicker, heavier and more difficult to handle.
The manufacturer has developed the next generation of radiant barrier products by avoiding the use of adhesives and films in the lamination process. Just like the conversion from iron to steel, when waste is eliminated, the resulting product is not only stronger but much lighter weight and easier to handle.
Radiant Barrier Dallas-Fort Worth, TX
Energy Attic's aluminum foil radiant barrier heat insulation helps make homes and offices more energy-efficient, saves money on heating and cooling bills, and reduces the carbon footprint.
The US Department of Energy Concludes a New Radiant Barrier Study
Presented at the ASTM C16 Committee Semi-Annual Meeting – Monday, April 16, 2012 - Phoenix, Arizona
Test Results as Presented by Andre Desjarlais of Oak Ridge National Laboratory
Radiant barrier is finding its way into more and more building codes, like California Title 24. As a result, the US Department of Energy has conducted elaborate tests for radiant barrier in attics at the large scale climate simulator at Oak Ridge National Laboratory. The purpose of this testing was to evaluate the performance differences in new construction and retrofit applications, as well as the performance differences between the radiant barrier sheet and the radiant barrier paint, also known as an Interior Radiant Control Coating (IRCC).
The experiment tested the performance of the following attic assemblies:
Control (no radiant barrier)
Radiant barrier applied directly to the OSB sheathing
Radiant barrier applied to the underside of the rafters
IRCC sprayed to the underside of the rafters and OSB
The attic assembly was built to code with rafter spacing, ventilation, and insulation. The large scale climate simulator tested the attic at temperatures simulating both summer and winter to calculate the savings for both heating and cooling. Even the heat lamps simulating the summer sun were used to simulate the solar load on the roof assembly.
The results were similar to previous tests performed on radiant barrier:
The attic without radiant barrier had the highest heating and cooling costs
The OSB with radiant barrier had a 33% improved cooling and 10% improved heating
The Rafter-applied sheet radiant barrier had a 50% improved cooling and 10% improved heating
The IRCC spray had just 20% improved cooling and no improvement in heating from the control
The DOE was hopeful that the IRCC would offer better performance since spraying on IRCC paint is easier than installing a sheet radiant barrier once the house is built, but the thermal emissivity of the IRCCs on the market today do not perform as well as a sheet radiant barrier.
In new construction, the radiant barrier laminated to the OSB sheathing is certainly the easiest and least expensive to install, but going to the added labor in installing a radiant barrier under rafters can result in greater savings. This may be for a variety of reasons, like the higher emissivity of the OSB, a lack of space between the barrier and the sheathing to vent, and the presence of the rafters below the barrier to reduce the coverage of the low emittance surface.
The most efficient method was the radiant barrier applied to the rafters. Since this particular experiment did not have A/C ducts in the attic, homes with attic ducts could see even greater savings in the summer. Radiant barrier on the rafters is the preferred method of installing a retrofit radiant barrier by the US Department of Energy, ENERGY STAR, California Title 24, ASTM International, RIMA International, and others.
---
Radiant Barrier
Attic Insulation
Solar Ventilation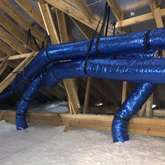 Air Duct Services
About Our Radiant Barrier Company
At Energy Attic, our mission is to improve the areas in your home that truly count: air quality, comfort, efficiency. We provide long-term, real solutions that increase your home's sustainability and protect your family throughout the year.
811 E Plano Pkwy, Suite 120
Plano, TX 75074
4500 Mercantile Plaza Dr #314
Fort Worth, TX 76137
Mon - Fri    9:00 am - 5:00 pm
Sat - Sun    Closed