Air Scrubber by Aerus® purification products use ActivePure®, a variation of technology originally developed in cooperation with NASA to create a safe atmosphere for astronauts on the International Space Station. This technology is added to your current HVAC System and now available to help protect you, your family, and your home from dust, germs, odors, pet dander, viruses and more.
Scientifically Proven to Clean & Purify
This Air Scrubber with ActivePure® Technology has been studied in controlled university testing for reduction of particulates in the air and contaminants on surfaces. Help protect your home and family against dust, allergens, mildew, smoke, odors, and odor-causing bacteria easily and conveniently with ActivePure® Technology.
Your Home's Air Quality Starts In Your Attic
I highly recommend Energy Attic for your attic needs. The difference that it made was definitely noticeable!! The guys were always prompt, listened to what we needed, and were very efficient. Job well done!!!!

- Jill R.
Request an Attic Assessment
Lack of sleep, sneezing, itchy, watery eyes...it's allergy season. Dust, mold, pollen or many of the other pollutants can cause irritation and allergy symptoms. These contaminants can be reduced with the Air Scrubber by Aerus®. ActivePure® Technology uses specialized light waves along with a proprietary catalytic process that creates scrubbing molecules of oxygen and hydrogen which purify your air and reduce irritating particles that can irritate allergy symptoms.
Whether burnt dinner, a family member that smokes or a pet that's just come in from the rain, there's not much you can do to prevent some of life's odors. But now there's something you can do about them. Working through your heating and air conditioning unit, the Air Scrubber by Aerus® is a unique photocatalytic device that will significantly reduce dust, pet dander and odors in your home. You will be able to reduce common smells such as pet odor, cigarette smoke, paint fumes, mold smells and of course the occasional burnt food odor.
Reduce Irritating Particles
Do you worry about what is being brought into your home? Contaminants from school, daycare or the office follow us home on hands, clothes and shoes and land on our doorknobs, counter-tops and floors. Air Scrubber by Aerus contains ActivePure® Technology, proven to destroy up to 99% of all surface contaminants. Additionally, this breakthrough technology scrubs, purifies and cleans the air you breathe by reducing approximately 90% of airborne contaminants.
Additional Air Quality Options
If you live in a home with older attic insulation, it could be negatively affecting your air quality. Insulation can deteriorate over time and become damaged from water or rodent activity. 
Customers who have removed old insulation from their attic space and replaced it with new attic insulation have reported a significant and immediate increase in air quality, a dramatic decrease in dust, and a decrease in mold or mildew smells.
Duct Work:
Your ductwork can be a contributing factor to poor air quality issues like allergies, dust, and musty smells. We have the ability to check your duct work for any damage that could be affecting your air quality. Depending on what's needed, we can refer you to a trusted professional to clean your duct work or we can replace your ducts with the latest duct technology that helps improve air quality as the air travels through your ducts.
Ventilation
Proper ventilation not only affects the comfort of your home, it can also affect the air quality. Proper ventilation can prevent mold growth and fungal decay. It can also help with that mysterious smell of must and mildew that can occur in seasons where the heating and cooling units of your home are not running as much. We can assess your needs and address specific opportunities to make sure your attic is properly ventilated.
I highly recommend Energy Attic. Guy & his associates did our attic approximately 5 years ago & every summer that I go into my attic , I feel this was one of the best improvements we did on our home!

- Neelambari J.
They did an amazing thorough job. I was very impressed and I can already tell the difference, my upstairs is so much cooler ... I wish I had done this when I moved in to the home!!

- Alex O.
I highly recommend Energy Attic for your attic needs. The difference that it made was definitely noticeable!! The guys were always prompt, listened to what we needed, and were very efficient. Job well done!!!!

- Jill R.
Schedule Your Energy Attic Audit
An Energy Attic expert will come to your home and give you an honest and accurate assessment of your attic.
We offer air scrubbers, insulation, air duct, and ventilation solutions that will improve the air quality of our home.
Enjoy The Benefits of Better Air Quality
Experience the benefits of attic solutions that improve the air quality of your home.
Frequently Asked Questions
Which insulation is best for my home?
The best way to determine which insulation products are right for your attic is to schedule an in-home assessment. We can take a look at your attic environment and recommend the right insulation. You can choose from fiberglass, wool, and cellulose insulation.
What are the benefits of radiant barrier?
Radiant barrier reflects 97% of thermal heat in your attic. By keeping the heat from getting into your home, you save up to 40% in energy costs. Radiant barrier is easy to install, non-toxic, and noncarcinogenic. It also exceeds all fire and smoke safety codes. Once installed, radiant barrier requires little to no maintenance over the years.
What other products and services do you offer?
We offer thermographic imaging, solar-powered attic vents, air conditioning units & duct sealing, radiant barrier duct wrapping. All of our services are designed to improve insulation, ventilation, air quality, and energy savings. We offer a comprehensive package of attic services so that you only have to work with one company.
What does an energy attic audit include?
The purpose of an energy attic audit is to prevent you from wasting money on inadequate or outdated insulation products. We perform a thorough inspection of your attic to determine how you can protect your home and lower your energy costs. We assess every area of your attic, test for proper ventilation, and perform thermal heat tests. All of our audits are honest, accurate, and have your home's best interest in mind.
---
Radiant Barrier
Attic Insulation
Solar Ventilation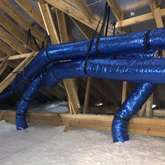 Air Duct Services
About Our Radiant Barrier Company
At Energy Attic, our mission is to improve the areas in your home that truly count: air quality, comfort, efficiency. We provide long-term, real solutions that increase your home's sustainability and protect your family throughout the year.
811 E Plano Pkwy, Suite 120
Plano, TX 75074
4500 Mercantile Plaza Dr #314
Fort Worth, TX 76137
Mon - Fri    9:00 am - 5:00 pm
Sat - Sun    Closed